Who We Are?

We Are The Best Plumbers Electricians in Melbourne

Welcome to Plumbers Electricians, from where you can hire plumbers and electricians for various residential and commercial needs. Our plumbers and electricians are certified by the best training institute in Melbourne and are capable of troubleshooting all difficult and easy tasks belonging to this industry. Our work includes:
Wiring ss per layout
Upgradation and renovation in wiring and installation
Emergency power cut solutions
Any electrical or plumbing needs –ask on call!
Plumber
A plumber is somebody who repairs and installs plumbing systems in homes. Plumbers are also responsible for repairing any leaks or problems with the water supply, drainage, gas lines, electric wiring, and other related services. Homeowners often call plumbers to fix things that go wrong with their plumbing system at home.
Electricians
Electricians are those who work with electricity and electronics for a living. Most people think of electricians as people who wire up the electrical systems in a house, but the truth is that they play an extremely important role in the maintenance and function of a home's electrical systems. Most electricians are trained to work on all types of electrical systems, but the most important system for them to be familiar with is the electrical system that powers your home's lights, fans, appliances, and other electronic appliances. Our Electricians have Certificate III in Electrical Fitting.
Get 24/7 Plumbers and Electricians Services

Licensed Team With Quality Assurance Work
We Can Solve
All Issues Where


You Need Plumbers
And Electricians

From inserting wires into the electrical system and then connecting the wires to the appropriate terminals on the house wiring to testing the system to make sure that everything is working correctly and all necessary plumbing installation, repairs, and replacements, we can solve all issues where you need Plumbers And Electricians.
Our Recent Work and Projects

Melbourne's Leading Plumbers Electricians

By installing, upgrading or repairing the electrical and plumbing systems, we help to keep your home more comfortable and safe. Here are some recent work and projects completed by Melbourne's leading Plumbers and Electricians.
Our Happy Clients Testimonials
Great Pricing
I strongly recommend Plumbers and Electricians to each one of you. No other company provides such fine service at this price. The team did quality drain cleaning work. My family is in love with your service team and would like to thank you for the same. John
Great Experience
I had a great experience with your plumbers when they were at my home for fixing my leaking hot water unit. The plumbers were on time. My hot water was not checked for a long time and eventually, we got the problem. But thanks to your team who fixed the problem. Ryan
Flawless Job
I found your company when I was looking for reliable and inexpensive electricians. When I contacted your team and shared the problem, your team said that they can help. I trusted your team and got a flawless mainboard fixing job. Your team does wonders. Jason
Unbelievable Service
I am very thankful to your team who showed up in an emergency and restored my electricity board. There was a sparking problem when anyone was switching on the board. We called you in an emergency and the team arrived without wasting a minute. Clara
Complete Care Service

Maintenance Plan For Residential, Industrial and Commercial

With our suitable and minimal charges plan for Residential, Industrial and Commercial plumbing and electrical services, you can be free from the worry of whom to call when facing the problems solved by electricians and plumbers.
Residential Service
AC inspection
Electrical inspection
Wiring services
Water system flow checking
All plumbing fixes
Repair electrical boards
Switchboard upgrade

Industrial Service
New power unit installation
Electrical inspection
Heating Cooling Unit check
Switchboards, MCB check
All plumbing fixes
Electrical Wiring Change
Yearly upgrade

Commercial Service
Customised Lighting installation
Appliance and fixture installation
Yearly upgradation
Waterpoint checking
All plumbing fixes
Fans, connection points, cable
24 hours response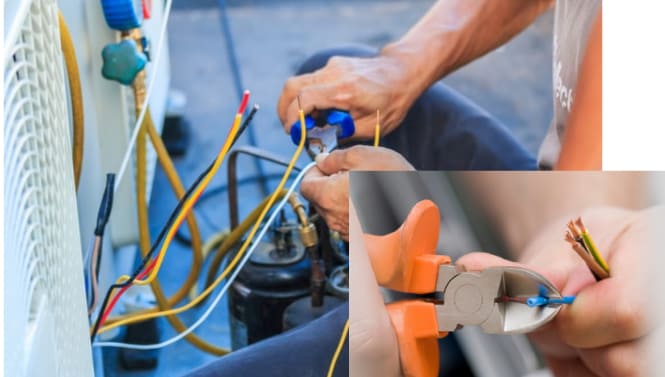 Plumbers Electricians
Most Affordable Option


in Melbourne VIC
Contractors 24/7

Everyone needs Plumbers and Electricians and we provide such a team that is famous for its quality Plumbers, Electricians services and minimal charges in Melbourne VIC.
Latest Blog and Pro Tips

For Your Plumbers Electricians Issues
Hire Plumber Electricians For Best Hydronic Heating Systems Services Plumbers Electricians proudly boasts of the finest plumbers and electricians in Werribee. We have experienced experts for hydronic heating devices. From installation, repairs, services, and maintenance of hydronic heating systems – we do it all. We extend our impeccable plumbing services for hydronic heating systems to […]
Contact Form

Get In Touch with Us