We Are

The Best Local Electricians in Melbourne With 24 Hours Assistance and Quality Work.

Plumbers Electricians has been continually offering the best-quality electrical repair services. Our electricians Melbourne offer expertise in a professional manner at cost-effective prices. Our experts are the best local electricians in Melbourne that help you with 24 hours of assistance. In fact, we take it as our pride as we are 24 hours at your service to answer the queries and book slots for you round the clock. Moreover, we maintain an honest working relationship with all our clients and give our assistance to every suburb of Melbourne.
Our electricians Melbourne team skills and professionalism have kept us in the field through tough economic times and we continue seeing growth. Therefore, if you are in need of the best electrician Melbourne services, count on us to clear all your issues in a single attempt. So, to avail of installing services or repairs, give us a call any time of the day at Plumber Electricians to book a slot.
Solving Your

Electrical Problems For 35+ Years: Our Speciality

With over 35+ years of experience in this industry, it is an open fact that we are experts in solving all electrical problems. In fact, as we have 35+ years of expertise, by just inspecting your place in a short time, we can tell you what electrical problems your home is facing. Our electricians Melbourne specialists are:
Home Automation Electrician
Electrical Safety Switches
Electrical Security Lighting
Repairs, Installation and Services

Get Top Rated Melbourne Electricians At Affordable Price

Be it the need of installing a new switchboard or repairs needed to your power points in a domestic setting, our Melbourne electricians are ready to help. Also, the experts who do the installation and repair services are fully qualified and licensed. Here, we would like to tell you what our electricians Melbourne repairs, installation and services are.
Rewiring Homes
Do you not want to wait for the electrical system at your home to run out of time? Then our electrician in Melbourne can aid you with rewiring the home. Enquire us for more details!
Lighting Installation
Lighting installation needs devices of light sources, supply mains, switchboards, and the starting and controlling apparatus. However, besides all these, to do this service, a licensed local electrician in Melbourne is needed like us.
Servicing Switchboards
Our switchboard services include switchboard component testing, replacement & retrofitting, modification and installation of assemblies. But do not worry about accident occurrences as we are highly experienced in preventing them from happening.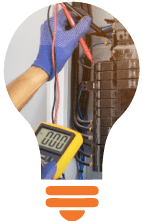 Electrical Inspections
To make sure the electrical inspections are perfectly going on, we thoroughly accomplish protection methods against thermal effects, electric shocks, etc. Moreover, during the inspection, we make sure to take precautions against fire propagation and voltage drop.
Electric Hot Water
Is the gel heating technology in your water heating unit working no more? Do you want to repair them instead of a total replacement? We appreciate it. However, as soon as you face this issue with your hot water unit, give us a call to avail of same-day service.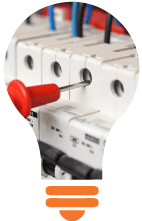 Complete Electrical Inspections
Our complete electrical inspections at your home provide a thorough examination of the entire electrical unit and ensure the safety of all the electrical wires. Moreover, we also check if all the components inside of an electrical unit are the same as they need to be.
Air Conditioning
If you want air conditioning installation or repair services, we are one of the rapid and best electrician Melbourne teams to ask for help from. Once you call our electricians Melbourne for the repair of a heating issue, we quickly approach you to remove heat and control the humidity of the air.
Smoke Alarm
Typically, a smoke alarm is an indicator of fire for many kinds of premises is it homes or businesses. Hence, look for electricians 24 hours to regularly inspect your smoke alarms to check if they are in proper working condition.
Why Plumbers
Electricians Best


For This Job?

The plumber electricians are best for this job because they are legally verified and licensed for their work in the field. The other reasons can be,
Availability of electricians 24 hours
Contributes important work to electrical installing and repairing services
Experts from Melbourne itself
Extend the life of your appliances
Gives attention to detail while working
Patience and problem-solving skills
Check Our Recent Work and Projects

Melbourne's Leading Plumbers Electricians

By installing, upgrading or repairing the electrical and plumbing systems, we help to keep your home more comfortable and safe. Here are some recent work and projects completed by Melbourne's leading Plumbers and Electricians.
Contact Form

Get In Touch with Us
Get A Free Quote
[contact-form-7 id="5772″ title="Home-page"]
Your Local Electricians in Melbourne Servicing
Entire Suburbs


and Town With
24 hours Emergency Services

We are like a leading light in the field of providing electrical services and special electricians in Melbourne. For over 35+ years, we have built a reputation of offering electrician Melbourne CBD team for the entire Melbourne. We focus on delivering 24 hours emergency services even with electricians Western suburbs Melbourne teams. Also, our electricians South Melbourne team is committed to continuously developing ourselves with training to meet all the client needs. Moreover, our local electricians North Melbourne experts enable us to reach everything with installing & repairing by going above and beyond.
Our Commitment:
A Certified Electricians


You Can
Trust in Melbourne

Having expertise in all electrical works, we are a medium to every client's help in Melbourne. We can work on proper timescales and complete the job with high standard methods. Moreover, we are certified with Certificate III in electrical work. So, trust our Melbourne electricians who strive to advance and grow our understanding of electrical technologies. Also, we have approved experts who are fully acquainted with all report and certification requirements. On top of this, no doubt we are verified and licensed experts. So, look no more for electrician near me in Melbourne and hire us!